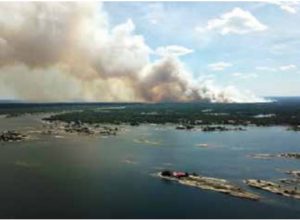 In the summer of 2018, the Parry Sound 33 (PS33) forest fire swept the Georgian Bay coast approximately 75 kilometres north of Parry Sound devastating almost 12,000 hectares including homes, cottages and ecologically important coastal habitat. The fire forced evacuations and a state of emergency in the community and came within 7 kilometres of Highway 69. The blaze was discovered near the Henvey Inlet wind farm construction site on July 18, 2018 and was not contained until early August. The Ministry of Natural Resources and Forestry (MNRF) declared the fire extinguished on October 31, 2018.
Since the fire GBA had been actively seeking answers from the developer and MNRF surrounding the causes, protocols and safety precautions that should be in place going forward to mitigate the risk of an avoidable tragedy like this in the future.
GBA Advocacy on Freedom of Information (FOI) Request to Release the Fire Investigation Report
Ecological Succession
Scientists from McMaster University are taking action to kick start parts of the ecosystem to help iconic species such as turtles and snakes recover from this devastating fire. Watch the video below to see how the land, plants and wildlife are beginning the recovery process.
Additional Articles