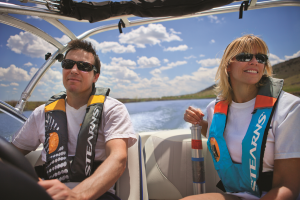 Boating of any kind is an exercise that requires proper training, skills and experience to make it fun and enjoyable. As a recreational boater you are a member of a unique community with a responsibility to know and understand the regulations and requirements that apply to you and your vessel. With this in mind, here are some resources and refreshers that can help beginners and experienced boaters safely enjoy their time on Georgian Bay.
The Rules of the "Road"
You need to learn the "rules of the road" before you get behind the wheel of a car and you should do the same before taking the helm of any watercraft. It's very important to have the boating information and certificates you need before you hit the water and since most of us hoist the boats out of the water for most of the year, it's never a bad idea to brush up on the fundamentals.
Know Before You Go
Emergency Contacts – In an emergency situation on the water the Coast Guard should be your first contact. This number should be programmed into your phone. The Coast Guard may also be reached via *16 on your cell phone, but not all carriers enable this number, so 1-800-267-7270 is your best bet in an emergency.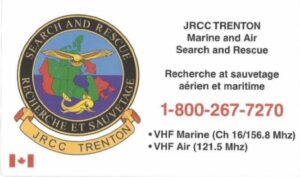 On Georgian Bay, the Coast Guard might respond to the following types of incidents:
Vessel on fire (the Coast Guard does not fight the fire but they will assist with rescue)
Vessel aground
Vessel disabled or broken down
Vessel taking on water
Vessel capsized
Vessel lost in fog
Person overboard
Missing persons
Medical emergencies
Assistance to other agencies

What to Have Onboard – The video below discusses the safety equipment every vessel should have onboard in case of an emergency.
Plan for Cold Water – October through June is cold water season on Georgian Bay and boating during this time requires some additional planning and attention to detail. Many people die during the first few minutes of immersion in cold water and not from hypothermia, they simply drown due to the immediate effects of cold water. Learn the 1-10-1 Principal (below) to help in the event of accidental cold water immersion and get more safety tips for boating in cold water here.
1 – 10 – 1 Principal
1 minute to control your breathing – float, don't panic and try not to hyperventilate
10 minutes to self-rescue – swim or plan your course of action
1 hour to incapacitation by hypothermia – can you make the safe distance you need by then? If not, stay where you are.
Safety Comes First
Lifejackets and PFDs – It doesn't matter if you can swim or you are an experienced boater emergencies happen and wearing a lifejacket of PFD is the best way to protect yourself.
Lifejackets only work if you wear them! Read more about lifejackets and PFDs here.
Wakes – You are responsible for the wake you make. Large wakes can create unsafe conditions for swimmers and smaller vessels, cause property damage, and destroy shorelines and breeding grounds for fish, frogs and waterfowl. The law states that power-driven vessels must slow down to 10 km/hour within 30 meters of a shoreline except in canals and marked channels. Watch the video below to learn more.
Speed – You don't have to be travelling at high speeds to cause a high impact collisions. The Ontario Provincial Police have a great collision reconstruction video to show how speed can impact a boat crash.
Cold Water – Water temperatures in the Bay drop off substantially as fall approaches as do the cottage populations which means there may be fewer people around to help in an emergency. Plan on being your own first responder. If you are on the water between October and June make sure you:

Wear a lifejacket
Remember the 1-10-1 principal
Plan ahead and always let people know where you are going
There's an App for that
There are some great apps out there that will help you navigate our waters. If you are a boater, here are a few apps that GBA strongly recommend you add to your phone:
Discover Boating – designed to keep you, your friends and family safe when you're out on the water, this app has all the info, tips and tools you need for boating safely in Canada.
weather2boat – you'll find the weather forecast and all the key information you need for your boating adventure in this one app from the Canadian Safe Boating Council.
what3words – the new standard in search and rescue allowing 911 responders to pinpoint exactly where you are, and direct help. A fantastic tool in remote areas where signal is limited and on vast waterways.