The Great Lake Water Quality Agreement (GLWQA) is "a commitment between the United States and Canada to restore and protect the waters of the Great Lakes", which was first developed in 1972 (with the latest amended in 2012). The defined purpose of the GLWQA is stated "to restore and maintain the chemical, physical, and biological integrity of the Waters of the Great Lakes", and is used as a framework to tackle these binational issues. 
GLWQA and Georgian Bay (and the GBA)
Since Georgian Bay falls under the GLWQA, the GBA has a strong interest in remaining involved and up to date with the initiatives set out by the GLWQA. 
The GBA sat on the Canadian Stakeholder Advisory Panel for the GLWQA Negotiations in 2010 and remains active as an Official Observer for annual update sessions to ensure that there is representation on Georgian Bay issues. 

GBA has regularly participated with our NGO colleagues, such as the Canadian Environmental Law Association, on detailed submissions regarding

Chemicals of Mutual Concern

and other GLWQA issues.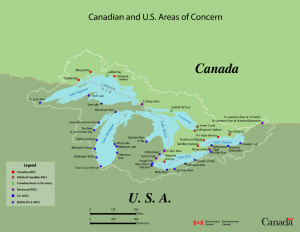 Part of the GLWQA mission was to identify and address Areas of Concern (AOC) within the Great Lakes system. Two of these AOC were located in Georgian Bay and they were Severn Sound and Collingwood Harbour. As of 2003 and 1994 respectively, these two AOC have been delisted which means that the concerns have been addressed.
Both Severn Sound and Collingwood Harbour were listed as AOC due to their poor water quality and environmental degradation. With the development of individual Remedial Action Plans and ample support by local organizations both areas were able to restore the water quality and environment to the set criteria. 
Extra Helpful Links
The

EPA

Great Lake Water Quality Agreements page

GBA's webpage

on the Canada-Ontario Agreement 

GBA: review

of the Great Lakes Area of Concern Spending since 1985

GBA: Comprehensive response on Canada-Ontario Agreement on the Great Lakes Water Quality and Ecosystem Health 2020