Fire Danger Ratings for June 1, 2023
As of 7 a.m. on Thursday June 1, 2023 a snapshot from the Ministry of Natural Resources and Forestry (MNRF) shows an extreme forest fire danger rating for almost the entire east coast of Georgian Bay and the North Channel. Total fire bans are in effect for all of the coastal municipalities. This means no open burning (even for cooking or warmth).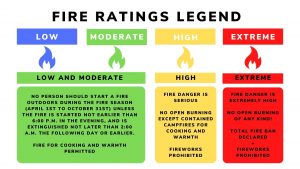 As of 7 a.m. on Thursday June 1, 2023, local municipalities are reporting the following fire danger ratings:
The text colour corresponds to the current fire rating reported for each jurisdiction. Please click on the local links above to confirm the allowable activities for each municipality.
This web page is intended for general information purposes only. While we have attempted to provide information that is helpful for our readers, GBA accepts no legal liability for the contents of this web page. Ensure you check original sources of information on fire ratings, fire prevention and response for further details and updates. Check details of the general liability provisions of your insurance coverage if you are involved in providing or supporting firefighting equipment, planning or advice. For advice regarding your insurance needs or liability insurance coverage, please contact your insurance broker.