Fire Danger Ratings for September 22, 2022
As of 10:00 a.m. on Thursday September 22, 2022 a snapshot from the Ministry of Northern Development, Mines, Natural Resources and Forestry (MNR) shows the current risk for forest fires is low to moderate for the east coast of the Bay and the north channel due to rain and cooler temperatures. Click the map below for the latest updates from MNR.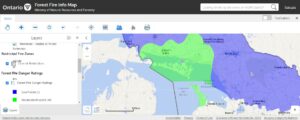 GBA has fire prevention information and tips to keep your cottage safe here.
Georgian Bay Association posts weekly fire ratings for the eastern coast of Georgian Bay and the North Channel between May and October.
This web page is intended for general information purposes only. While we have attempted to provide information that is helpful for our readers, GBA accepts no legal liability for the contents of this web page. Ensure you check original sources of information on fire ratings, fire prevention and response for further details and updates. Check details of the general liability provisions of your insurance coverage if you are involved in providing or supporting firefighting equipment, planning or advice. For advice regarding your insurance needs or liability insurance coverage, please contact your insurance broker.