Help Stop the Approval of the Pumped Storage Project at Meaford
GBA needs your support to point out to the Ontario Ministry of Energy (MoE) why their ongoing support for this proposed energy storage project at Meaford should be dropped.
When compared to the alternatives, such as an Oneida battery storage facility, the TCE project has the following major shortcomings:
is highly inefficient (70% vs 95-98% for battery storage – see below);
uses outdated technology (at least 50 years old vs new high tech battery storage technology);
will inevitably cause significantly more environmental harm (battery storage has almost no local environmental impact, whereas this Project will cause extensive environmental harm, see: https://savegeorgianbay.ca/ ; and, most importantly
is much more expensive per MW stored thereby offering a bad deal for Ontario taxpayers.
Please help us to ask the MoE to either:
Cancel approval of the Project; or
Carry out a thorough examination of the pros and cons of the Project to determine whether or not it is a good deal for Ontario, including a comparison to alternative energy storage solutions, before proceeding any further with Project approvals.
You can send a letter to your MPP now here.

Update from Save Georgian Bay
In this update, discover details from internal Department of National Defence and Independent Electricity Systems Operator documents, including:
the anti-competitive procurement process utilized for this project; and
a shocking $4b+ subsidy offer to the Federal Government in the form of carbon credits and re-building the base.
Also, learn about audits Save Georgian Bay is requesting to investigate troubling political ties and undue political pressure on Meaford's elected council.
Read the update here.
Nov 23. 2023 news article in the Narwhal
GBA has reviewed this comprehensive and well-balanced article on the TCE proposed pumped storage project at Meaford and submitted the following comments to the Narwhal:
GBA found there were some key issues that were not mentioned in your excellent TCE article, as follows:
 The project does not "create" energy it loses energy. For every 10MW used to pump up water, onl7 ~7.2 MW is supplied back to the grid. It is appallingly inefficient, using old, out-of-date technology.
IESO has twice rejected this project as being a bad financial deal for Ontarians, because the alternative of battery storage will cost around 50%, particularly since, as part of their deal, TCE would be required to finance the construction of a new base for DND at the site. That means Ontario tax payers will be subsidizing the federal DND.
The project will lead to a net increase in CO2 emissions. TCE's claims to the contrary are false. The reason for this is that the energy used will no longer be exported to the US states who currently purchase it, and those states will replace that lost supply by burning fossil fuels – coal and gas.
This project is completely unnecessary and the Ontario Minister of Energy should reject it in favour of battery storage, which can be built much quicker, in order to quickly solve Ontario's storage needs, has virtually no environmental impact, and costs half as much to build.
Finally, and perhaps the most important, in addition to heavy metals and unexploded ordinance, the DND site is riddled with PFAS and also some agent orange. DND has experimented with different fire retardants for protection of military vehicles in battle at the site over the years. PFAS chemicals are highly carcinogenic and impossible to get rid of. They are a major pollution concern in the Great Lakes and elsewhere.
You can read the Narwhal article here.
How Will TC Energy's Pumped Storage Project Impact Georgian Bay?
Proposed Project
TC Energy (TCE) is proposing to construct a large pumped storage facility just north of Meaford on land owned by the Department of National Defense (DND). The project is still at the feasibility stage and continues to move through the approval process with Ontario's Independent Electricity System Operator (IESO).
A local group Save Georgian Bay (SGB) has recently assembled a point-by-point rebuttal of TCE claims about the project, which can be found here:  SGB critique of TCE pumped storage project May 2023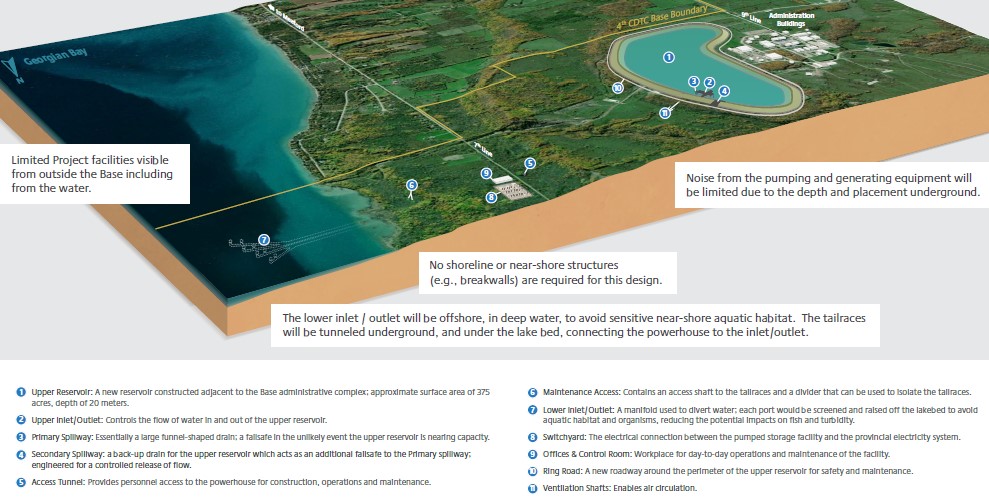 How it Works
As per the diagrams, water would be pumped out of Georgian Bay via tunnels into the reservoir above at low off-peak hydro rates, when most of Ontario's energy needs are being supplied by low-carbon energy sources such as nuclear and wind energy. It would then be released down the steep slope through the same tunnels, back into Georgian Bay, to generate power at peak demand times, when there is a higher use of natural gas-fired power plants. The current site was selected in part because it provides 150 m of vertical elevation above the Bay and is within 100 km of a power grid that can handle the level of power the project is projected to produce.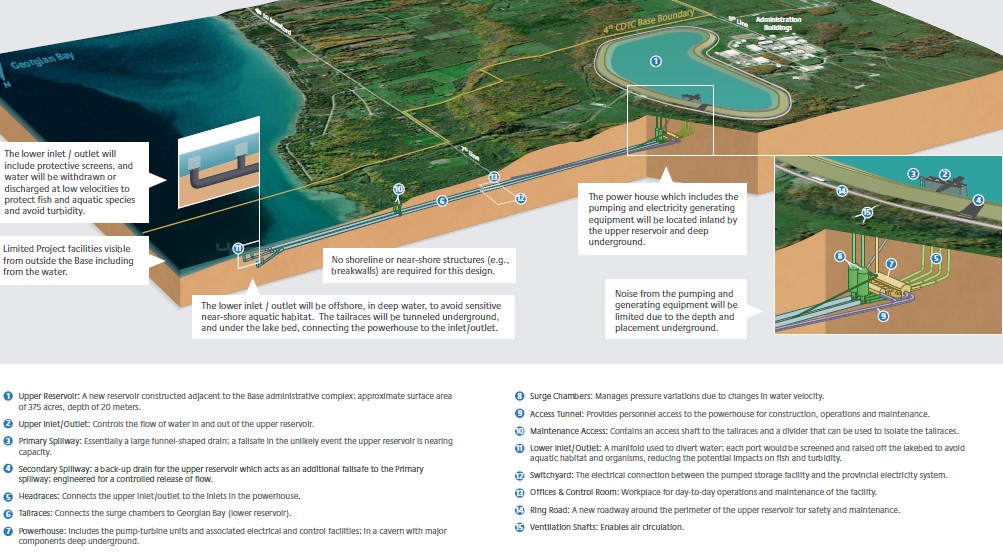 Key Statistics
Output: 1,000 MW
Stored energy: 8,000 MWh (1,000MW per hour for 8 hours)
Flow rate in both directions: equivalent to 42% of the average flow rate over the Canadian side of Niagara Falls (Horseshoe Falls)
Efficiency: 72%
This efficiency factor means:
The project takes approximately 11 hours to fill the upper reservoir, and can generate electricity for 8 hours thereafter; and
For every 100 MW used to pump the water into the reservoir, 70-75 MW is generated when the water is released.
GBA Actions
Although the project is proposed for a site on the west coast of the Bay, GBA is examining this project because we have several concerns about its potential environmental impacts on Georgian Bay, notably a potential increase to fish mortality, water turbidity, water temperatures, and habitat destruction. These impacts could affect greater Georgian Bay, and we are concerned about the precedent it will set.
At this stage, GBA has gathered additional information on the proposal from TCE, DND and a local group opposed to the project, Save Georgian Bay. As we move forward, we will continue our research and discuss our findings with all appropriate stakeholders. We will continue discussions with TCE about the design of the project and plans to address and mitigate potential environmental impacts.

Alleged Benefits
The alleged benefits of this project include:
CO2 Emissions Savings
TCE commissioned Navigant to do an economic analysis of the project, which includes calculating potential CO2 emissions savings. Navigant based their calculations on a range of future Ontario energy sector demand and supply scenarios, and show average CO2 emissions savings of around 490,000 tonnes per year, and potentially more. GBA requested further clarification of these assumptions to better understand how the projected savings will be realized. The answers received did not deal with all our concerns, in particular the impact of lost exports being replaced by gas and coal fired power production in the US states that currently import from Ontario, thereby increasing CO2 emissions beyond the Ontario savings calculated by Navigant.
Grid Efficiencies and Savings
By capturing excess power that would otherwise be wasted, and releasing it when needed at peak times, the project would enhance the efficiency, flexibility, reliability and security of the Ontario electricity supply system. It would also provide back-up power during grid disruptions and better integrate other power generation facilities in the province. Collectively this grid balancing would reduce costs of electricity for Ontario consumers by an estimated $250 million per year. However using more efficient recent technology (i.e. battery storage) would achieve the same objective at a much lower cost to Canadian tax payers.
Potential Negative Impacts
Intake/outflow system

The main potential negative impacts of this project relate to the design of the water intake/outflow system to be deployed. Since GBA and others have been expressing our concerns about the potential entrainment of fish and other aquatic biota, turbidity, sediment disturbance, and impacts on fish habitat and currents, TCE has made significant changes to the project's design. The new design will:
move the water intake/outflow pipe away from the shoreline;
incorporate tunnels installed beneath the lakebed that will lead to deep water to avoid sensitive near-shore fish habitat;
raise the intake/outflow structures off the lakebed to avoid bottom dwelling aquatic organisms and the potential to create turbidity;
incorporate fixed screens and limit the speed of water intake and release, which would further protect fish and other aquatic biota; and,
locate the powerhouse (pump/turbines) away from the shoreline in an underground cavern and connect it to the water intake/outflow through underground tunnels.
The original design was conceptually similar to the Ludington pumped storage project in Michigan, that demonstrated consistently high rates of fish entrainment and other impacts, even after a successful lawsuit forced the installation of a net system to mitigate the damage.
TCE's updated design addresses many of the original concerns of GBA and demonstrates that we can be cautiously optimistic that community feedback, and efforts by GBA and others, will now lead to substantial mitigation of potentially severe environmental impacts should the project proceed. GBA is still concerned and will follow events closely to ensure that the expected improvements from the design changes unfold as advertised.
Disturbance of any significant quantity of lakebed sediment and bringing sediment down from the reservoir into the Bay that could be dispersed over a very large area of the Bay is a concern for GBA, because the DND has used this site as a training facility and firing range for decades. There may be various pollutants, including heavy metals, in the sediment that could be released into nearby waters.
The outflow from TCE's reservoir could also potentially warm the water and disrupt water currents in Georgian Bay.

Species at Risk
There are 11 animal species at risk recorded on the Base whose habitat could be destroyed or compromised, both from construction activity and potential displacement of 375 acres of Niagara Escarpment to create the reservoir. The endangered butternut tree also grows on the Base. The recent design changes with facilities moved underground show promise in reducing surface disturbances and the potential impacts to species at risk.

Hydro Line
TCE has proposed two solutions to connect the project to the provincial grid at Barrie – an overhead transmission system, or a subsea solution that would cross Georgian Bay. The subsea solution, the preferred transmission option for the project, could disrupt lakebed sediment and potentially impact the local marine environment and water quality.
The other option that will be evaluated is an on-land transmission route. While most of the hydro lines needed to connect to the grid at Barrie would be constructed along existing power corridors (with minimal impact), new sections may be required. These could cause some ecosystem damage, along with habitat disruption or destruction.
All the above potential negative environmental impacts will be evaluated and studied as part of the federal and provincial environmental impact assessments.
What is GBA doing?
GBA is involved in the consultation process and is gathering information on the proposal from TCE, Department of National Defense (who own the land) and a local group opposed to the project, Save Georgian Bay. We have engaged in and will continue direct discussions with TCE about the project.
Our aim is to ensure that TCE maximizes mitigation of potential negative environmental impacts if the project goes ahead. We also have suggested that TCE consider alternative closed loop locations.

GBA Submissions
Additional Information
Save Georgian Bay
Save Georgian Bay has a petition underway here that has around 44,000 signatures to date. The group has assembled relevant engineering, environmental consultancy, and biologist skills to back up their opposition and has submitted a comprehensive assessment of this project to the Department of National Defense here.
Saugeen Ojibway Nation (SON)
TCE have entered into discussions with SON regarding their participation in the project. Materials from their information session can be found here.
TCE Website
TCE's recent letter to the community can be found here. Additional information posted by TCE on this project can be found on their website here.
Department of National Defence
The Department of National Defence (DND) has extended it's consultation process to September 30, 2020. Please see details for submitting comments to DND here.
Additional Articles