What is a Floating Cottage?
This is an issue that GBA has been working on for around 25 years, but recently there has been a proliferation of new manufacturers and designs, and a consequent interest in developing appropriate regulations. This includes municipal regulation and possibly making these accommodation units subject to local taxes. GBA's primary concerns are to ensure that environmental protections are in place, and the safety of both those on board (instability) and other vessels (navigability) are addressed. Proper disposal of black water, grey water and garbage are the most concerning environmental issues.
F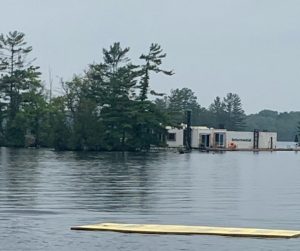 loating cottage design varies between those that need to be towed from place to place, and those that have their own means of propulsion and navigation. However all are clearly accommodation units built on rafts, rather than within a hull. At present there is therefore a clear distinction between floating cottages and houseboats. This may change as more imaginative designs are developed.
Key developments on this issue so far are:
Township of the Archipelago successful 1998 lawsuit to ban a floating cottage attached to crown land:  ToA 1998 Floating Cottages Lawsuit Judgement
Township of Georgian Bay has developed bylaws aimed at regulating floating cottages, see: TGB staff report on floating cottages Feb 2022
A 2015 Ontario Supreme Court decision and a 2018 BC court decision that may provide support for municipal regulation: Kawartha Lake  Supreme Court Decision – 2015 and BC Court Decision – 2018.
The Ministry of Northern Development, Mines, Natural Resources and Forestry (MNR) asked for public comment on floating cottages. GBA's suggested responses can be found here.
GBA along with Gloucester Pool Cottagers' Association (GPCA) and Great Lakes St. Lawrence Cities Initiative (GLSLCI) have asked Natural Resources Minister, Graydon Smith, to take the lead on this file. Read the GBA letter here.
GBA provided information and guidance for members to provide feedback to MNRF regarding their amendments to the Publics Lands Act, which will include changes that will help to get floating accommodation structures properly regulated – here
The priority for GBA's Floating Cottage Strategy Group is now the Transport Canada Strategy Plan being spearheaded by Gloucester Pool Cottagers Association. The plan is a multi-pronged approach to get Transport Canada to put in place similar regulations to those that apply in B.C., so that Floating Cottages can also be properly regulated in Ontario.
There have also been some useful press coverage and presentations as follows:
Members of GBA's Floating Cottage Strategy Group spoke to CBC recently to discuss the need to property regulate pop-up floating cottages:
GBA has:
GBA will:
Continue to advocate to Transport Canada, MNR, and other government agencies for changes required to ensure municipalities can regulate floating cottages and full environment protections are in place
Continue to work with municipalities, cottage associations and other stakeholders to establish a coordinated approach to determine how municipal regulations can be implemented and enforced