This is an issue that GBA has been working on for around 25 years, but recently there has been a proliferation of new manufacturers and designs, and a consequent interest in developing appropriate regulations. This includes municipal regulation and possibly making these accommodation units subject to local taxes. GBA's primary concern is to ensure that environmental protections are in place. Proper disposal of black water, grey water and garbage are the most concerning environmental issues.
What is a Floating Cottage?
F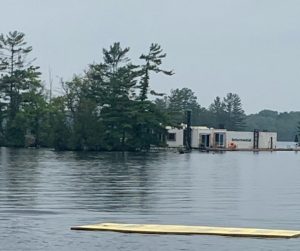 loating cottage design varies between those that need to be towed from place to place, and those that have their own means of propulsion and navigation. However all are clearly accommodation units built on rafts, rather than within a hull. At present there is therefore a clear distinction between floating cottages and houseboats. This may change as more imaginative designs are developed.
Key developments on this issue so far are:
There have also been some useful press coverage and presentations as follows:
Why this shipping container home is making waves in Ontario cottage country – CBC – November 3 2022 CBC article and video
Members of GBA's Floating Cottage Strategy Group spoke to CBC recently to discuss the need to property regulate pop-up floating cottages:
GBA has:
Started discussions on a coordinated approach to determine how municipal regulations can be implemented and enforced
Commenced discussions with Transport Canada to request that vessel licenses not be issued for floating cottages and those that have been issued are rescinded
Provided input into MNR at a March 2022 consultation webinar on the issues
Developed suggested comments to MNR on the March/April 2022 Environmental Registry of Ontario (ERO) posting, as above
Submitted comments on the March/April MNR ERO posting:
GBA will:
Continue to advocate to Transport Canada, MNR, and other government agencies for changes required to ensure municipalities can regulate floating cottages and full environment protections are in place
Continue to work with municipalities, cottage associations and other stakeholders to establish a coordinated approach to determine how municipal regulations can be implemented and enforced