Support Bill 102, formerly Bill 279 (Microplastics Filters for Washing Machines), 2022
GBA is supporting Georgian Bay Forever (GBF) and MPP Jessica Bell who has proposed Bill 102, formerly Bill 279, which will require new clothes washing machines to have filters installed. This legislation is the result of GBF's
successful research projects in Parry Sound and Collingwood, which clearly demonstrated that installing
these filters reduces microplastics pollution, helps protect the water, environment and ultimately anyone
in the area consuming the water.
Bill 279, now Bill 102 received unanimous approval at First Reading and we are asking for your support on a letter
writing campaign to MPPs to ask them to get this Bill passed before Queens Park rises in June for the
election.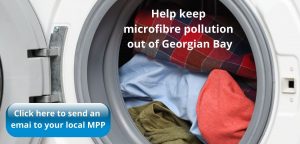 The Big Problem with Tiny Fibres
In a washing machine cycle, our clothes can shed up to hundreds of thousands of microfibers that go down the drain to wastewater treatment plants, where many are caught, but billions get through to water bodies like Georgian Bay daily. Microfibers are the most prevalent type of microplastic pollution in the environment. Studies have shown microfibre/plastic pollution is in our drinking water, is being found in the guts of many aquatic species and is travelling up the food chain.
It's not just synthetic microfibres that pose a threat to the ecosystem. Microfibres from natural fibres can contain dyes and chemicals from processing that can also leech into our waters. This is a relatively new area of concern and more research is needed into the long-term impact of microfibres in the Great Lakes.
Divert and Capture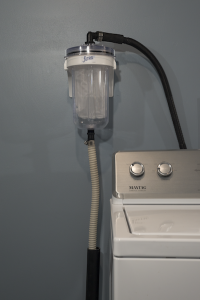 Georgian Bay Forever and the Rochman Laboratory at the University of Toronto studied the impacts of microplastics/microfibres in Georgian Bay and have demonstrated that washing machine filters are effective at reducing microplastic/microfibre pollution at the source. Through their Divert and Capture research initiative, volunteers in Parry Sound who installed microfibre filters on their washing machines collected over 20 kg of material estimated to contain as much as 9.7 billion microfibres!
Read the research article published in Frontiers in Marine Science here: Washing Machine Filters Reduce Microfiber Emissions: Evidence From a Community-Scale Pilot in Parry Sound, Ontario
The study followed 97 Parry Sound households over a two-year period that added a filter to the outflow of water from their washing machines. Residents captures residue and the amount of microfibres in the town's wastewater treatment plant were measured. The study demonstrated that washing machine filters can catch a significant amount of microfiber/plastic pollution at source before this pollution goes to wastewater treatment plants. This illustrates that filters can be an  effective and scalable solution for microfibre pollution.
In 2021 MPPs Ian Arthur and Jessica Bell introduced a private member's bill to further protect our waterways from this microplastic pollution. Bill 102, formerly Bill 279, will amend the Environmental Protection Act to prohibit the future sale of washing machines that are not equipped with microplastic filters. GBA has put our support behind this bill and has reached out to all Ontario MPPs to encourage them to support this initiative so that all future washing machines will be sold with filters. You can indicate your support as well by contacting your local MPP using the button below to ask them to support this important piece of legislation and keep this pollutant out of our Bay!

What Can You Do?
Write to your MPP to support Bill 279 – send an email to your MPP here.
Attend Georgian Bay Forever's microfibre pollution webinar on Feb 24 at 7pm

hear the research and find out how to help  – get the details and register here

Change your laundry habits: . Small steps can help reduce the release of microfibres:

wash clothing less frequently and only when needed
use a front-loading washing machine and liquid detergents to reduce abrasion
wash at low temperatures: Hot water can cause clothes to break down more quickly than cold or warm water.
Choose shorter wash cycle: Reducing the wash time reduces the amount of abrasion, which reduces microfiber shedding.
Invest in a filter for your current washing machine.
Georgian Bay Forever has a great brochure on how to reduce your microfibre output here and watch a quick video here.
Additional Resources