Georgian Bay Boaters and Cottagers Code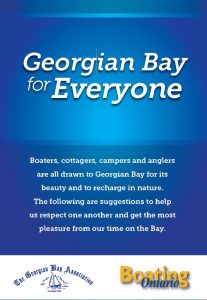 Our water based and largely water access community neccesitates sharing our water resources. All users of Georgian Bay share the same concerns about safe enjoyment and protection of our waterways. A wide variety of users frequent Georgian Bay and they include: kayakers, anglers, hunters, cruising boaters, day sailors, canoeists, contractors/tradespersons, guests, tenants as well as permanent and seasonal residents.
Georgian Bay for Everyone is intended to be a resource and a guide for shared enjoyment of the Bay. It replaces the Georgian Bay Boater and Cottager Code, originally printed Spring 2002 and updated 2005. It is our hopes that this pamphlet will reach a broader audience so please share it with other users of the Bay.
This pamphlet has been developed cooperatively by the GBA, cottage associations, representatives from the marine industry, boaters and input from the OPP. Both Boating Ontario and the Georgian Bay Association have contributed financially to printing costs. The indent is that it be reprinted by interested parties and their contact information can be added on the back page.
For more information click on the pamphlet below: